TIMELESS PRACTICES TO IMPROVE STUDENT LEARNING
Supporting educators and leaders in their important work of helping every student become a confident and successful learner
QUALITY FORMATIVE ASSESSMENTS
How Teacher Teams Intentionally Align Standards, Instruction, and Assessment
COMMON FORMATIVE ASSESSMENTS 2.0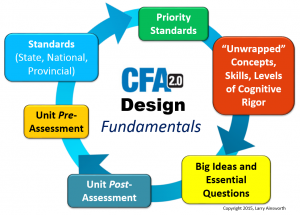 Common formative assessments (CFAs) are aligned pre- and post-assessments that are based on the "unwrapped" Priority Standards for a unit of study and collaboratively designed by a grade-level or course-level team. They typically include a blend of selected-response questions (multiple choice, matching, true/false, and fill-in items with a provided answer bank) and constructed-response questions (short and extended). The purpose of the formative assessment is to provide evidence of student learning of the standards in focus so that teachers can adjust their next-steps instruction to close the identified student learning gaps.
Feedback provides evidence of learning, but if the evidence is faulty, the inferences teachers make will also be flawed. That is why quality assessment design is so critical. Margaret Heritage wrote: "Without quality evidence, teachers may not be able to take the right kind of action that will lead to positive consequences for learning." (Formative Assessment: Making It Happen in the Classroom, 2010).
The CFA 2.0 process provides teachers with credible evidence of learning derived from quality formative assessments!
Enter your contact information here to receive more information about the "Common Formative Assessments 2.0" workshop, applicable to all standards, all grades, and all content areas, K-12!
Include the following response fields: