TIMELESS PRACTICES TO IMPROVE STUDENT LEARNING
Supporting educators and leaders in their important work of helping every student become a confident and successful learner
Prioritizing the Standards Workshop
TIMELESS PRACTICE #1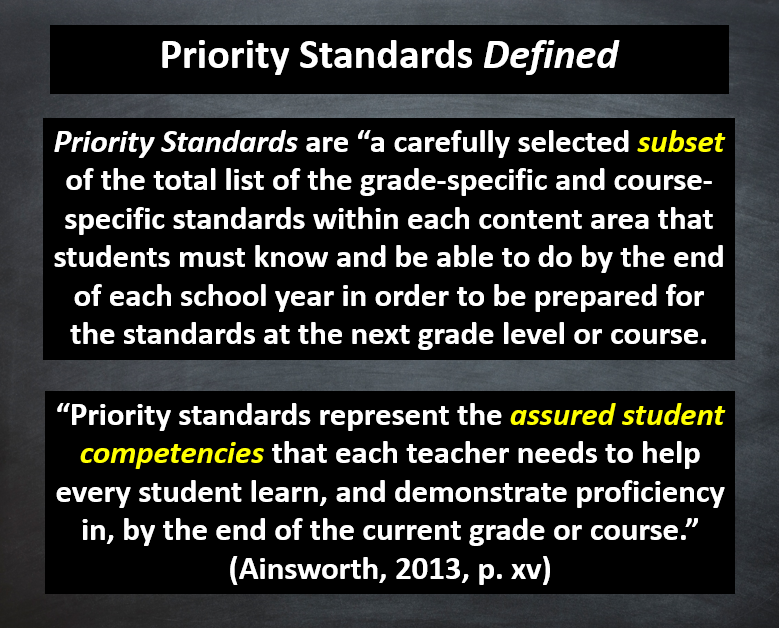 BRIEF DESCRIPTION:
In the introductory Priority Standards virtual workshop, Larry presents the rationale and an overview of the proven method for identifying those rigorous standards that require the greatest instruction and assessment emphasis. Standards not identified as priorities are termed supporting standards. "Prioritization, not elimination," is an important cautionary phrase repeated in the workshop to reassure educators and leaders that the process does not overlook any standards.
WHAT WILL LARRY PRESENT?
During the five-part Priority Standards virtual workshop series, presented in 2-hour sessions, Larry will…
Address the most compelling reasons why prioritizing the standards is a critical first step in planning effective instruction, assessments, and use of curricula
Provide clear definitions of Priority Standards and supporting standards
Present clear and objective criteria for prioritizing standards in any content area, K-12
Lead participants through the dynamic process of prioritizing and vertically aligning standards, K-12 in content area(s) of choice
WORKSHOP PARTICIPANTS WILL:
Experience the Priority Standards process in one or more sections of any selected content area(s)
Use specific selection criteria for identifying the Priority Standards at each grade-level, K-12
Vertically align all grade-level selections from kindergarten through grade 12
WHO SHOULD ATTEND:
K-12 classroom educators
Instructional specialists
Curriculum and assessment coordinators
School and district leaders
WHAT WILL YOU LEAVE WITH?
First-draft selections of grade-specific Priority Standards in one section of targeted content area, vertically aligned, K-12
Next steps action plan to complete prioritization and vertical alignment of remaining sections in targeted content area
What are Tacoma Public Schools Prioritization Teams Saying?