Timeless Practices to Improve Student Learning
Supporting educators and leaders in their important work of helping every student become a confident and successful learner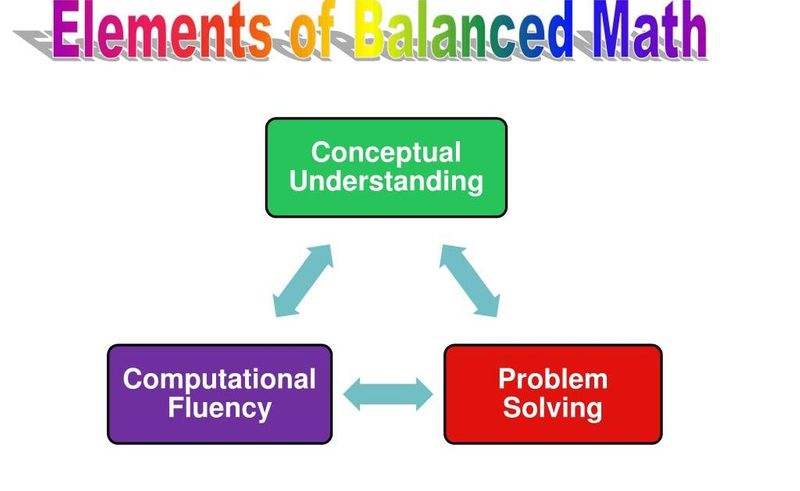 FIVE EASY STEPS TO A BALANCED MATH PROGRAM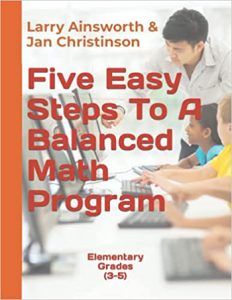 Date of Blog Post: April 12, 2022
Newly Republished on Amazon KDP! A Simple Framework That Works with Any Math Textbook Series to Create Mathematically Powerful Students!
FIVE EASY STEPS TO A BALANCED MATH PROGRAM by Larry Ainsworth & Jan Christinson
3 Separate Grade-Band Editions and the Amazon Links to the Books:
"Five Easy Steps to a Balanced Math Program has revolutionized the way our teachers approach math instruction! The five steps not only represent best practice; they are easy to understand and can be implemented by our teachers immediately following awareness/training sessions. The philosophy of the five steps reinforces our desire to create mathematically powerful students. Five Easy Steps to a Balanced Math Program is so highly regarded in our school district, it has made our list of "non-negotiable" professional practices!"
Michele Walker
Former Mathematics/Science/Assessment Coordinator
Metropolitan School District of Wayne Township
Indianapolis, Indiana
************************************************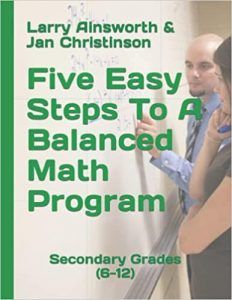 "We are using this framework extensively in our school district. Five Easy Steps to a Balanced Math Program helps teachers focus on teaching concepts for understanding, as opposed to marching through a textbook. We emphasize that our state standards are our curriculum, and this is the framework we are using to plan and teach these standards for understanding to our students. Textbooks, like any other resource, are incidental to the implementation of quality math teaching and learning. We are working toward conceptual understanding and not just teaching the procedures of math the same way we were all taught math. Our teachers are excited about Math Review and Mental Math. Our students are excited about the Problem of the Week. We are all excited about math in our district and the results we are getting with our students."
Virginia P. Foley, Ed.D.
Director of Elementary Curriculum and Student Services
Dalton Public Schools, Dalton, GA
************************************************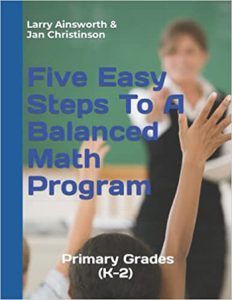 THE NEED FOR A BALANCED MATH PROGRAM
How can teachers create mathematically powerful students—students who can solve problems and also communicate their understanding to others? Our extensive experience as elementary and middle school math teachers has proven that when students are engaged in a "balance" of mathematics activities, they can succeed where it counts: in applying their math skills and reasoning ability to solve real-life problems requiring mathematical solutions. By balance we mean the deliberate design of instruction and assessment that helps students:
Build computational skills
Develop mathematical reasoning and problem-solving abilities
Deepen conceptual understanding
Demonstrate understanding in a variety of assessment formats
SUMMARY OF THE FIVE DESIGN STEPS:
Step 1: Computational Skills (Math Review and Mental Math)
Math Review emphasizes the development of number sense as students practice procedural mathematics and computational skills every day. It also prepares students for success on the annual state mathematics assessment. Mental Math helps students become skillful in computing math problems mentally.
Step 2: Problem Solving
This step provides both a structure for problem-solving activities related to the current conceptual unit of study focus and a general problem-solving rubric or scoring guide that is used throughout the year to assess student work.
Step 3: Conceptual Understanding
Step 3 begins by identifying, in district and state math standards, a particular grade-level topic that is essential for student understanding. That topic becomes the focus of a conceptual math unit of study that is deliberately designed to align instruction with an end-of-unit assessment.
Step 4: Mastery of Math Facts
The emphasis in Step 4 is on fact recall through student understanding of patterns. A program of accountability enables students to learn all their basic math facts by the end of elementary school. The process begins with the faculty mapping all the addition, subtraction, multiplication, and division facts across grades K–5.
Step 5: Common Formative Assessment
The final step aligns school-based assessments for learning to math Power (Priority) Standards. These formative assessments are collaboratively designed, administered, scored, and analyzed within each grade level several times throughout the school year. Common formative assessments provide teachers with valid feedback as to students' current understanding of the Power (Priority) Standards in focus. Such data provide predictive value regarding how students are likely to perform on subsequent district and state assessments—in time for teachers to modify and adjust instruction to meet specific learning needs.
SPECIAL FEATURES:
Each book is specific to a different grade-band, either Primary Grades (K-2), Upper Elementary Grades (3-5), or Secondary Grades (6-12) and includes a research-based math rationale, illustrative grade-level examples for each grade in focus, easy-to-follow descriptions of each step, differentiation strategies, reader's assignments for immediate classroom use, guidelines for implementation, time management suggestions, frequently asked questions, leader's guide, reproducible forms, and more.
If this is a topic of interest to you, to your own school and/or school district, please see again the Amazon links to the three books at the top of this post. It's no exaggeration to say that you'll love the process and the results, and so will your students!